The Days of the Single Cloud Are Gone
Driven by the breadth of technology options, potential cost savings, and the need for business agility, more than 92% of businesses are already moving to a hybrid or multicloud strategy. However, enterprises face critical choices, and a failure to consider common risks can diminish, or even eliminate, the benefits of hybrid and multicloud.
This report is designed assist CxOs, application architects, and IT decision makers with identifying common patterns of implementation failures/successes and provide a framework for evaluating hybrid and multicloud platforms. The author frames the rise of hybrid cloud, discusses key considerations challenges this technical shift impacts, and reviews the key players across multicloud management.
Key Topics & Findings
Automation of hybrid and multicloud management is critical for organizations leveraging cloud at scale, and although management technologies vary from provider to provider, the use of policy-driven governance is the dominant and most desired approach, as is third-party automation of governance, and integration with cloud security.
Automation is the single most important concept that enterprise IT can invest in, including the ability to automate cloud operations (CloudOps) across multicloud. For every dollar invested in automation, 100 dollars will be returned over a 5-year period of time.
Enterprises are falling behind with core metrics in measuring the effectiveness of hybrid and multicloud. Cost overruns are common, with enterprises not considering all the hidden costs of these cloud computing architectures.
Hybrid clouds are moving away from paired public and private clouds, to paired public and legacy systems. Private cloud operating systems, such as OpenStack, are falling out of favor with enterprises.
The use of connectivity and middleware services to connect public clouds and legacy systems is becoming more important. Enterprises should invest time and money now into finding the right middleware solution for both hybrid and multicloud.
By 2025, multicloud will be the norm, with more than two public clouds in service of the enterprises being a consistent best practice. This may lead to the combining of some IaaS providers.
Success is measured by the ability to remove complexity while automating management and operations processes. Security will be on the critical path as well, with deep integration needed to ensure that the multicloud systems will surpass any existing on-premises security.
Get your free copy of the market landscape report today!
About The Author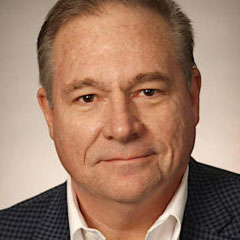 David Linthicum Analyst, GigaOm Research
David Linthicum is a CTO and internationally-renowned thought leader in cloud computing. David has spent the last 25 years leading, showing, and teaching large global enterprise organizations across all industries how to use technology resources more productively and constantly innovate. David has been a CTO five times for both public and private companies, and a CEO two times in the last 25 years. David has published 13 books on computing and his thought leadership has appeared in Wall Street Journal, NPR, Forbes, InfoWorld and Lynda.com.